Power Shape2 Body Sculpting
How does it work?
Powershape2 is a powerful, innovative 3-in-1 system that synergistically uses Bipolar RF, low level laser and vacuum roller for musculoskeletal pain relief, body contouring, fat and cellulite reduction and even alleviation of minor muscular pain. It is noninvasive and designed for body sliming. It can be operated on various areas of the body including the face with the newly added thermal RF hand piece.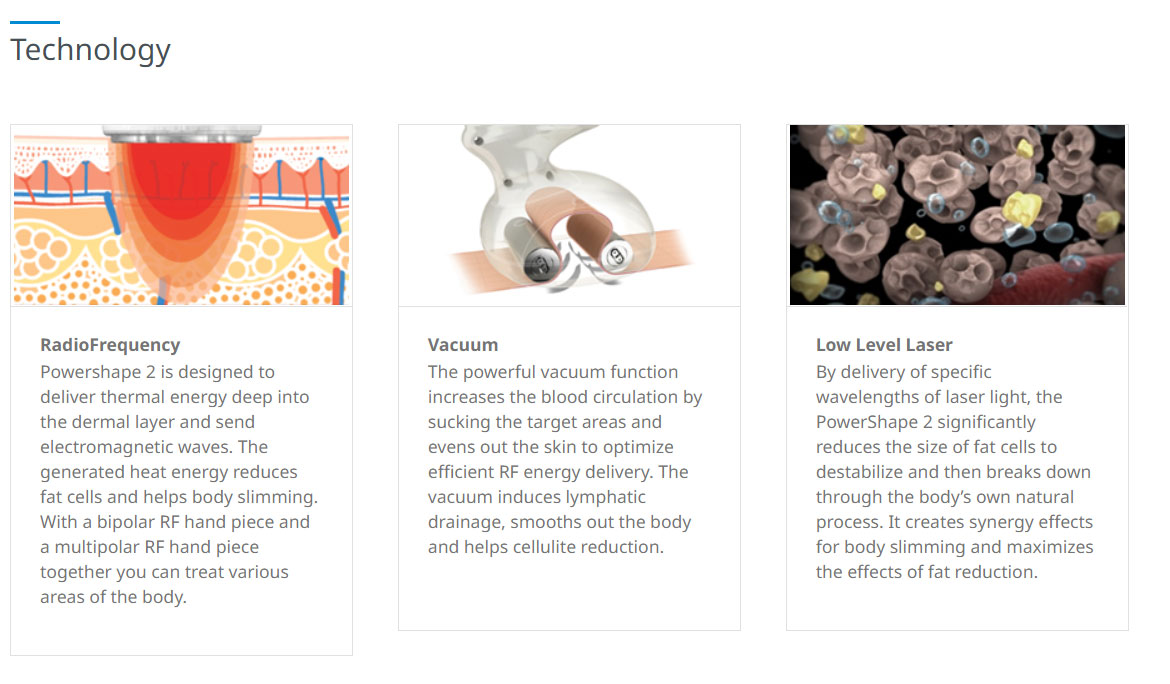 A . Soft and flexible cable
Made of soft and flexible material.
B . Wide LCD, easy and convenient UI
With its 10.2 inch digital touch screen, you can easily check the screen during the treatment. Simple UI is applied for user convenience.
C . Roll Handpiece
Bipolar vacuum-assisted motorized roll handpiece enables both Laser & RF energy precisely targeted where it can have maximum effect.
D . Multi-Polar Handpiece for Body
Employing 4 and more electrodes to deliver current to skin tissue. This vacuum-assisted multi-polar handpiece for body is able to simultaneously heat superficial and deep skin layers by delivering a focused yet even current to the skin.
E . Thermal Handpiece
Increased thermal energy conductivity that treatment time is reduced thanks to the ceramic coated bi-polar tips.
F . Hand piece storage
You can store the hand pieces in the hand piece storage inside of the device in order to prevent any loss of the components and to keep them in good order.